Online registrations for this event have now closed.  If you would like to attend, please email eastmidlands@womeninrail.org.
OPEN TO ALL REGIONS
Women in Rail is pleased to invite you to a Lunch and Learn by Sharon Vibert from Henpicked – Menopause in the Workplace.
Sharon Vibert is a Director of Henpicked: Menopause in the Workplace. Their focus is supporting employers in becoming menopause friendly, by following best practice standards. From introducing policies or guidance, resources, educating, training colleagues, managers, and champions. To embedding menopause into the culture of an organisations by keeping conversations going and providing the right going support.
Sharon and the team at Henpicked Menopause in the Workplace are passionate about empowering people to live their best lives. They're into their 6th year and work with a wide range of public and private sector employers, large and small both in the UK, Ireland and Globally.
Sharon's interests are in female health and wellness, particularly focusing on menopause, which also led her to start Good Midlife Vibes providing a community and platform for women to help one another by sharing their wisdom, stories, tips and support.
As an experienced public speaker Sharon is often asked to share her professional and personal menopause experience across all media platforms, empowering women to take positive action.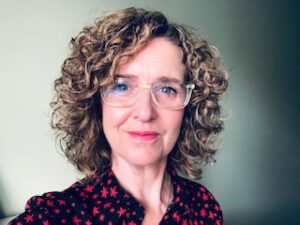 Time & Place
12.15 – 13.00, 8th September on MS Teams .
Why
Sharon Vibert will discuss how to become a menopause friendly organisation.
It's their mission to change the way we all think and feel about the menopause to #BreakTheBias – if we do that together today, it helps us now and the generations to come.  That's worth it for employee wellbeing and for your business. Creating a culture where menopause isn't just talked about but is business as usual, is the future for employers.
Menopause can have an impact on us all, whether we're experiencing menopause directly or supporting a partner, family member, friend or colleague. Research shows that the majority of those experiencing the menopause are unwilling to discuss menopause-related health problems at work or ask for any support they may need.
We will explore what the menopause is, how it affects someone at work, and how to support yourself and or colleagues by understanding what's happening and/or providing the right signposting and support.
Sharon will discuss why it's urgent and important to start conversations and how to talk about menopause at work and encourage others to do the same.
The session will include practical top tips, workplace adjustments and tangible next steps.
Also joining the discussion will be Leanne Illman – Head of Diversity and Inclusion at South Western Rail who has been instrumental in driving their menopause friendly workplace strategy.
Henpicked: Menopause in the Workplace, make it easy for organisations to become a menopause friendly employer by introducing the right menopause awareness, education, and support.
Tap into their wide range of tried, tested and trusted resources, which have already brought huge benefits to the hundreds of leading organisations they've worked with.
What
The presentation will be followed by a 15 min Q&A option in which participants can ask questions of Sharon via the chat box.
Who
This is for everyone, but is especially relevant for H&S, HR, Wellbeing and EDI leads.
Book now
There is limited capacity for this event so book now using the form below. The joining instructions will be emailed to attendees prior to the event.
If you would like to subscribe to Henpicked: Menopause in the Workplace Newsletter click here.
See you there.
Women in Rail – East Midlands & Wales