Hello and welcome to the Women in Rail East Midlands Regional Group!
The Women in Rail East Midlands Regional Group (WREM Group) officially launched in June 2017.  We are here to support and empower members of Women in Rail based in the East Midlands, provide them with a forum to develop their network locally and support them in their professional development, personal growth and confidence.
The WREM Group is led by Nicola McGuire (Leader/Chair) and Amy Ogden, Lucy Chance-Arkell, Lucia Capogna, Sue Rimmer, Lynsey Buxton, Nicole Ireland, Claudia Buck, Katie Baker and Bethany Carter.
All are volunteers, with full time day jobs, collectively representing a cross-section of the railway industry in the East Midlands region and are passionate about working together in the East Midlands to support the diversity ambitions championed by Women in Rail.
To make sure you do not miss out on the wide range of activities organised by the WREM Group, register on the Contact Us page and join the Women in Rail community in the East Midlands. Membership is completely free and will give you access to the local and national events organised by the team.
See you soon!
WR East Midlands Team
Email: EastMidlands@womeninrail.org
Nicola McGuire (Rail Account Manager at Aura Brand Solutions.)
Nicola is a Rail Account Manager at Aura Brand Solutions.
She has spent more than 20 years working for various companies within the rail industry. Following the successful completion of a HND in Business & Finance at Derby University, she embarked on her rail career starting at Adtranz (latterly Bombardier Transportation) working her way up to Spares Aftersales Manager before joining Transys Projects as Senior Sales Manager, then Achilles as a UK Account Manager for the Link-up scheme, Ricardo Rail and latterly Marketing Manager at AEGIS Engineering Systems.
Nicola is a STEM ambassador and enjoys promoting a career in the rail industry to school-aged children and is also heavily involved in wider diversity and inclusion initiatives such as Women in Rail and has participated in many of their regional and national events.
She has been Chair of the East Midlands regional committee for over 12 months and together with the team has organised many career development, mentoring and social events for Women in Rail members with lots more planned for the year.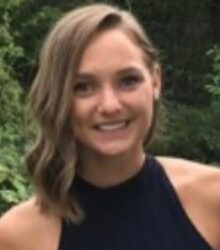 Lucy Chance-Arkell (Project Manager, Network Rail, Eastern)
Lucy is currently a Project Manager for Network Rail, Eastern Region. Since joining as a Project Management Assistant at the start of 2020, Lucy has had the opportunity to work across the commercial function supporting supplier relationship management, category management, transformation & change and procurement.
With 10 years' experience in the events industry and a degree in Events Management, she has a keen eye for detail and a proactive approach to complex challenges. She is passionate about people and understands the impact of event engagement and inclusivity.
New to Women in Rail, she is looking forward to supporting and promoting initiatives with East Midlands.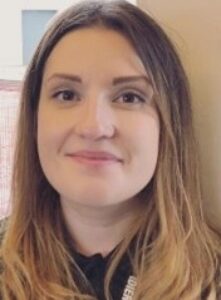 Amy Ogden (Industrial Designer, Alstom)
Amy has been working at Bombardier (now Alstom) since September 2017, joining the business through the Graduate Scheme. As well as working within her specialism of Industrial Design, Amy has experience in many areas of Alstom, including Project Management, Vehicle Design and Human Factors and Ergonomics. Amy has a degree in Industrial Design from Loughborough University.
Prior to joining Bombardier, Amy worked as a Design and Technology teacher for 4 years. Whilst teaching, Amy was passionate about encouraging pupils to take up Design and Engineering opportunities, particularly girls who had not considered pursuing Engineering and Design careers. Now working in rail, Amy continues to work as a STEM ambassador volunteering with several events to show local young people what an exciting career they can have within Engineering and Rail.
Lucia Capogna (Technical Lead Software, Ebeni Ltd)
Lucia Capogna is currently Technical Lead Software for Ebeni Ltd, joining in August 2022.
She is a Computer Science Engineer (BSc), System Engineer (MSc) and a Software and Cyber Security Expert with over 15 years of professional experience in Software, Cyber Security, Configuration Management, Requirements Management, Change Management, Project Management and Verification & Validation, across several industries including Railway, Defence, Oil & Gas and Renewable Energy.
Lucia is one of the leading engineers certifying and supporting railway companies on safety critical software and cyber security, she also supports the next generation of engineers as Stem Ambassador. She  also represents the UK in several CENELEC and IEC standardisation groups for both Software, Cyber Security and Functional Safety Standards.
Lucia has recently joined the Women in Rail East Midlands committee and is looking forward to supporting and helping to promote new initiatives.
Sue Rimmer (Rail Advisory, WSP UK)
Sue Rimmer has been in the rail industry for over 30 years, starting as a Technician Apprentice at BREL, she has worked in both technical and commercial roles for train manufacturers/maintainers and engineering consultancies such as Interfleet and SNC-Lavalin. With the many changes seen within the industry over the last two decades the majority of her roles have been in aa advisory capacity for new train procurement, tender evaluation, bid compilation and due diligence supporting both parent companies of Train Operating Companies, ROSCO's and the DfT.
Her advisory roles have been driven by the experience gained in Sue's career as both an engineer and a manager across all aspects of rolling stock including design, operations, maintenance and supply chain management. With multiple roles with both an operations and commercial bias, including account management and business development, she has extensive knowledge of the UK rail industry.
In 2021, after an operational management role as Head of UK Spares Operation at Alstom (formerly Bombardier), Sue returned to a consultancy role within the Rail Advisory team of WSP UK, where she works as a technical advisor to various clients in the UK, Europe and the Middle East. As part of WSP's commitment to supporting Women in Rail in the UK, and being part of the new WSP office in Derby, Sue was invited to be WSP's representative for the East Midlands & North East, a natural progression to that role was to become a committee member for WiR East Midlands. Sue's membership provides Women in Rail with a direct route to inform and promote both local and national initiatives within the broader WSP group.
Lynsey Buxton (Head of Employee Communications & Engagement, East Midlands Railway)
Lynsey currently leads all things employee communications and engagement at EMR, having worked in various roles across the rail industry for over 15 years.
She began her career in rail as an apprentice at Interfleet in 2007, supporting a wide range of business areas before joining the company's Group Communications Team as Marketing and Communications Business Partner. From there Lynsey joined Ford & Stanley for a short period as Client Relationship Manager, before joining the East Midlands Trains Communications Team in 2017. During this time Lynsey completed a degree in Business Management as well as a CIM Diploma in Marketing, whilst working full time.
Within her current role, she leads companywide campaigns and engagement initiatives, reward and recognition events and is responsible for the successful delivery of communications that support major projects and change programmes.
New to Women in Rail, Lynsey is looking forward to supporting growth of the East Midlands network as well as helping to promote new initiatives.
Nicole Ireland (Sales Manager: Transport, GAI-Tronics/Hubbell)
In 2017, Nicole was appointed to GAI-Tronics Sales Manager for UK and Ireland, covering telephones, help points and other Hubbell products for the non-hazardous side of the business – with the main focus on Transport.
Nicole joined GAI-Tronics in 1998 after completing degrees in European Technology & Business, and European Economics. Working up through various technical and commercial roles over the past 25 years has given Nicole a wealth of experience within a UK manufacturing business. These include roles in Customer Service and Contracts, as well as Marketing Manager, Project Manager and Product Manager. Developing products for, and selling into rail has given Nicole a great insight into the challenges faced by customers in all parts of the industry, and the demands placed on both sides to get projects completed successfully.
Nicole has always been proud to work for a UK manufacturing site, with integrated engineering, build and test facilities. Over the years, diversity within the business has certainly improved, and Nicole is keen to continue to champion women in roles across the business and the industry as a whole.
Having been a member of Women in Rail for several years, Nicole is looking forward to working more closely with the team as part of the committee.
Claudia Buck (Administrator, Shorterm Group)
Claudia Buck has worked as an administrator at Shorterm Group since 2021. Shorterm is one of the largest specialist technical engineering recruiters in the UK.
She works in the Derby branch who service the Rail and Rolling Stock sector and supply in excess of 1750 contract workers each day to a client base across the UK and Europe. Part of our service offering includes operating as the Sole Supplier to a number of leading engineering companies within Rolling Stock; this requires Shorterm to be responsible for all recruitment of contractors across the UK.
Her role as administrator is to support the recruitment process on a daily basis. She assists in the organisation of recruitment days in Derby, organising the supply of work wear to our sites across the country and the booking of medical screening appointments and on boarding the new contractors coming to Shorterm.
Claudia graduated from the University of Derby in 2018 with a BSc degree in Forensic Science with Criminology, a degree which helps with the data logging and attention to detail required when keeping clients in the loop with Shorterms' large workforce.
Women in Rail is such an important organisation as they offer a platform for professionals to work together and share ideas that can help to grow and improve an already huge sector whilst also encouraging other women to become part of the industry.
Katie Baker (Managing Director, Doctore On Track Training Services Ltd)
Katie owns a training company delivering On Track Plant competencies to many clients in the Rail industry. Day to day she manages the operations of a small team and was recently awarded the "Best Rail and Construction Consultancy MD 2023" by SME News for the achievements of the Company to date.
Her career in Rail began in 2010 when she started a graduate scheme role for Balfour Beatty Rail Plant. This is where her passion and love for all things Plant began. Katie has a Mechanical Engineering degree and throughout her time with Balfour Beatty she project managed several small and large scale engineering projects involving On Track Plant and On Track Machines.
Katie is eager to inspire other Women by showcasing different career paths, firstly through her own experiences as an Engineer, secondly through being a female founder and leader, and finally through the services her training company delivers – specifically she wants to encourage and increase female representation in the Plant Operator and Machine/Crane Controller sector.
Katie has recently joined Women in Rail to meet other likeminded women, have a wider support network and an opportunity to thrash out her ideas for EDI and see them come to life.
Bethany Carter (Project Coordinator, TÜV Rheinland UK Limited)
When she completed her A-Levels, she never knew that it would be possible to have a career in engineering, until she started her apprenticeship for an Engineering Consultancy.
Bethany has spent more than 8 years working within the rail industry, her journey started as a Business Administration Apprentice working for AEGIS Engineering Systems.
She successfully completed her Diploma, 6 months before the deadline date and received a promotion to become the Office Manager. By continually supporting projects within her role, gave her the opportunity to become Project Administration Manager. After the support and opportunities, she received, Bethany decided to become a STEM Ambassador to promote engineering and support people in their careers and personal development paths.
Bethany recently joined TÜV Rheinland UK Limited working in a more Project focussed role as Project Coordinator and is currently studying for her Prince2 Project Management qualification with aspirations to become a Project Manager.
She was nominated for the Women in Rail Raising Star awards in 2022 and is really excited to become a member of the committee for the Women in Rail East Midlands Regional Group to promote diversity in the UK rail industry and to help develop personal growth, confidence, and networking for all those involved.