Hello and welcome to the Women in Rail South Regional Group!
The Southern Group covers the South and South West including: Hampshire, Berkshire, Oxfordshire, Gloucester, Bristol, Wiltshire, Dorset, Somerset, Devon and Cornwall.
WR South Group aims to provide its members, both women and men in the sector, with a local network of support for their professional development, personal growth and confidence
I would like to ask for any local volunteers who can help me with Cornwall and Bristol. Please let me know if you are interested in helping me with this great opportunity and leading a county to help progress and grow industry diversity and inclusion.
The South Group works in partnership with organisations such as Young Rail Professionals (YRP), the National Skills Academy for Rail (NSAR) and others at WR.
The objectives for the WR South Group are to:
Develop a varied events programme for the South including professional development and networking.
Provide a forum of support for both women and men in the southern region.
Attract more women into rail. We must do more to showcase our combined female talent in schools, and universities and to inspire the next generation to join such a great sector by working with local companies to help promote rail.
To make sure you do not miss out on any of these activities organised by the WR South Group please register on the Contact Us page and join the Women in Rail community in the Southern region. Membership is completely free and will give you access to the local and national events organised by the team.
Best Wishes
Anna
Email: South@womeninrail.org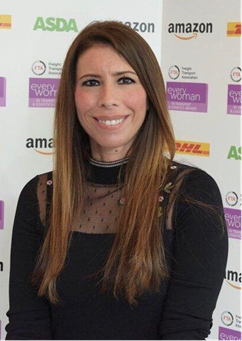 Anna Delvecchio - Commercial Account Director, Amey
Having started her career at the age of 16 on an apprenticeship programme, Anna Delvecchio has quickly risen through the ranks, holding several senior commercial and supply chain roles in her 20-year career, including negotiating major contracts for industry.
In 2013, Anna joined Amey where she is a Commercial Account Director. Over the last two years, Anna has worked on behalf of the Rail Supply Group co-leading the rail industry's co-ordinated response to the government's Industrial Strategy in the form of an ambitious proposal for a rail sector deal which was secured in December 2018.
With a passion for diversity and inclusion, Anna is committed to supporting and mentoring colleagues across the sector. She is an active participant of the Women at Amey Group and the Industry Lead for the Women in Rail South Group including playing a pivotal part in setting up the group.
Anna is on the Women in Transport Board, one of Everywoman's Ambassadors and is a strong advocate for apprenticeships including championing the Amey Apprenticeship programme.
Anna is a Fellow Member of the Chartered Institute of Logistics and Transport (FCILT), Fellow of the Chartered Institute of Procurement and Supply (FCIPS) and was named the Everywoman Transport and Logistics Woman of the Year 2018.