Women in Rail and the Railway Industry Association
collaborate on an Equality, Diversity & Inclusion Charter for the UK railway industry
Women in Rail (WR) and The Railway Industry Association (RIA) have launched a Charter to champion equality, diversity and inclusion in the UK railway industry. The joint 'Equality, Diversity & Inclusion Charter' is a commitment to work together to build a more balanced higher performing sector and has been backed by over 140 organisations.
The Charter involves several key commitments, including to:
Appoint a member of the senior leadership team as an 'EDI Champion';
Agree an action plan, monitor and report on progress made;
Provide opportunities for training and education of employees, support the progression of diverse individuals into senior roles to improve diverse representation at senior and executive level of the UK railway industry;
Create a culture that fosters inclusion and provide a safe space for all employees to talk openly, including at industry events and in meetings; and
Make recruitment and progression processes accessible and attractive to all to attract retain and develop people of all backgrounds, ages, genders and identities.
The Charter is open to all companies, clients and organisations working in the UK railway industry who wish to play a role in promoting positive change in the rail industry. It seeks to recognise and build upon the progress which has already taken place, providing the basis to encourage further collaboration and action across the sector.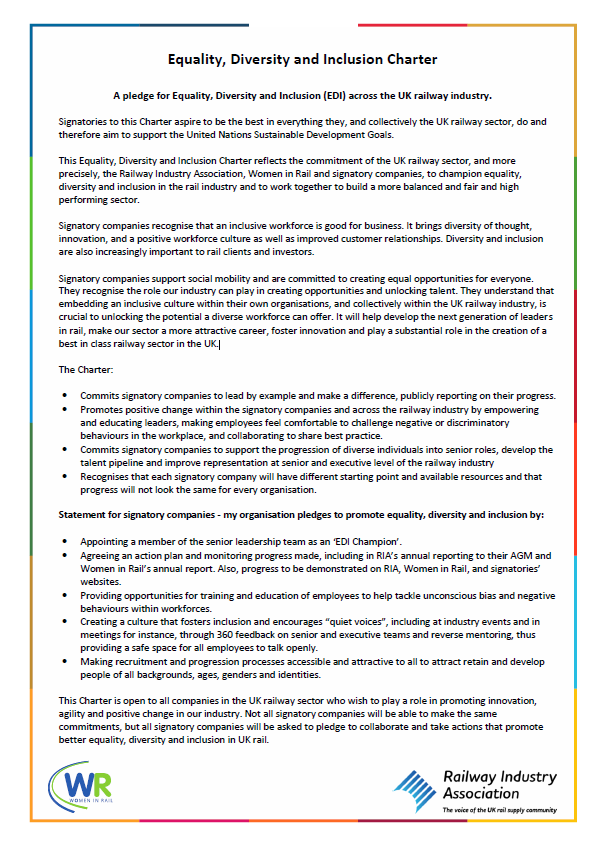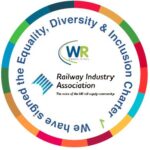 Thanks to the over 170 organisations who have so far signed the Charter.
Women in Rail Founder and Director Adeline Ginn MBE, said:
"The rail industry has worked hard in the last few years to promote Equality, Diversity and Inclusion within its workforce.

In these challenging times, it is important we strengthen these EDI efforts to ensure we attract and harness the skills, knowledge and insight from men and women representing all parts of our society and our customers.

This Equality, Diversity and Inclusion Charter represents our industry's commitment to openly support this agenda and we are delighted to be partnering with the Rail Industry Association on this exciting initiative."
RIA Chairman David Tonkin and Chief Executive Darren Caplan issued the following joint statement:
"We are delighted to announce the EDI Charter in partnership with Women in Rail. Whilst there has been plenty of progress in the rail supply sector which we should be proud of, there is still more to do to promote diversity and equal opportunity.

"The rail workforce should be representative of a modern UK, providing an attractive career path to people of all ages from all backgrounds, and ultimately increasing the talent pool from which the future leadership of the rail sector will be drawn.

"We hope the Charter will help encourage not just equality, diversity and inclusion in the rail supply sector, but also diversity of thought, unlocking new talent and building a positive culture throughout the railway industry. We look forward to working with organisations from across the sector to ensure that rail remains a fantastic area to work in during the years ahead."
Andrew Haines, Chief Executive, Network Rail, said:
"We are proud to be signing up to the EDI Charter in partnership with The Railway Industry Association and Women in Rail along with other organisations. We all have a collective role to play in making a positive change in our industry, so we are pledging to collaborate and take actions that will promote better equality, diversity and inclusion in the rail industry. We have taken some positive steps forward in recent years but still have a long way to go, and together, we can really make the difference that is needed."
Staynton Brown, Transport for London's Director of Diversity, Inclusion & Talent, said:
"Throughout the history of Transport in London, people from all backgrounds have played a vital role as part of the workforce.  We are proud to join our colleagues across the UK's transport industry in making this steadfast commitment and will work alongside our partners to ensure we are doing all we can to make it so. This charter is a great way to make sure that we continue to champion the importance of diversity and inclusion and embed it within our work."
Women in Rail 2020 Inspirational Woman of the Year & CEO of Motion Rail, Emma Dymond, said:
"Reflecting on the railway I joined almost 20 years ago as the only female in our telecoms maintenance team compared to the diverse "railway family" we have become today fills me with pride. As an industry, we have come a long way in creating a more gender balanced, inclusive environment for all. The WR and RIA EDI Charter is a great opportunity to align our efforts, share learning and best practice to inspire further equality, diversity and inclusion, encouraging a diverse workforce that will leave a lasting legacy for our future generations."
Abu Siddeeq, Head of Customer Experience at LNER said:
"LNER is passionate and committed to creating a diverse and inclusive workforce, reflecting the customers and communities we serve. We're proud to sign this Charter and look forward to working with a range of organisations to help make the railway industry an even more welcoming and inclusive place to work."
Robert Nisbet, Director of Nations and Regions at the Rail Delivery Group, said:
"We want everyone in the rail industry to have equal opportunities and we're working hard to improve equality, diversity and inclusion at the RDG by changing recruitment practices, listening to experiences from our employee network groups and analysing diversity data so we can understand where we need to take action. Our signature on this industry Charter represents a commitment to our people that we will continue actively improving EDI, making the RDG and the railway a better place to work and promoting equality for all."
Juliet Lazarus, Office of Rail and Road's General Counsel, Director of Competition and Diversity Champion, said:
"As an industry, rail provides a service that is crucial to our society. The sector faces many challenges at the moment and its success in meeting them depends upon everyone who works in rail. We need to be able to draw on the skills and contribution of a workforce that is representative at all levels of the public we serve. This Charter gives us an opportunity to work together as an industry and to learn from one another to make sure that we are improving diversity and inclusion and ORR is very pleased to be part of that."
Media Contacts
For further information about this media release, please contact:
Vicky Binley, PR & Communications Women in Rail
T: 01780 432930 M: 07951 806521 E: vicky@nimblemedia.co.uk
Max Sugarman, Public Affairs & PR Director Railway Industry Association
T: 0207 201 0777 M: 07399 042 385 E: Max.Sugarman@riagb.org.uk