Hello and welcome to the Women in Rail South Regional Group!
The Women in Rail South Regional Group (WRS Group) was launched on the 21st August 2017.
The Southern Group covers: the South and South West including: Hampshire, Berkshire, Oxfordshire, Gloucester, Bristol, Wiltshire, Dorset, Somerset, Devon and Cornwall.
WRS Group aims to provide its members with a local network of support for their professional development, personal growth and confidence.
I would like to create a group of volunteers from our industry, both women and men, to help me lead the South Group; working in partnership with organisations such as Young Rail Professionals (YRP), the National Skills Academy for Rail (NSAR) and others at WR. Please let me know if you are interested in helping me with this great opportunity and leading a county to help progress and grow industry diversity and inclusion.
My objectives for the WRS Group are to:
Set up a Southern steering group that is representative of our industry that covers key WR leads in the above counties.
Develop a programme and forum to support operational and non-operational professional development for women in the southern region.
Develop a regional awards programme to ensure we recognise the talent and achievements in both operational and non‐operational roles across the country as well as the national awards programme.
Attracting more women into rail is key. We must do more to showcase our combined female talent in schools, and universities and inspire the next generation, something that myself and Adeline want to champion for Women in Rail by creating a compelling campaign for industry.
To make sure you do not miss out on the wide range of activities organised by the WRS Group, register on the Contact Us page and join the Women in Rail community in the Southern region. Membership is completely free and will give you access to the local and national events organised by the team.
See you soon,
Anna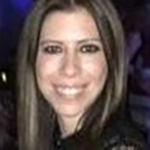 Anna Delvecchio - Commercial Account Director, Amey
Anna Delvecchio is currently a Commercial Account Director for Amey Consulting and Rail having joined Amey in 2012. She has worked in industry for 20 years during which time she has held a number of senior commercial and supply chain positions in both public and private industry.
From the 5th September 2017 Anna will be seconded from Amey to the Rail Delivery Group (RDG) where she will report directly to the Chief Executive. She will have continued accountability for supporting Rail Supply Group (RSG) as it becomes one of RDG's strategic boards as well as joining up other supply chain related issues across the organisation and its membership. Anna is MCIPS, Chartered Institute of Purchasing and Supply.
Anna is part of the Women at Amey Group and is also the industry lead for the Women in Rail South Regional Group.